Boston Bikes' Nicole Freedman
We started last and late, so one thing we've done is study everyone's best practices – talk to everyone.Boston Bikes Director Nicole Freedman
What challenges did she face? "Every city has its advantages," she counters; for example, Frederick Law Olmstead, who lived in Boston after his New York career, designed the Emerald Necklace, a series of parks around the city that today provides scenic routes for cyclists.
Boston's bike rack strategy?
First, obviously, go for demand; if you see a lot of bikes tied to trees, put them there. Two, people want to park very close to the entrance of where they are, so instead of clumping 10 racks in one location… better to spread them out. Three, for a city you want fairly robust racks. And the last thing we learned is, the rack choice matters, we wanted something that wasn't especially noticeable to passers-by and was fairly small. We chose something called called the hitch rack that looks a little bit like a lollipop. You want two points of contact between the bike and the rack.Nicole Freedman
But the inverted U that LA and Huntington Beach use, how does it compare with the hitch rack?
And why are sharrows the path of last resort?
Safe routes to schools, why has she prioritized this 'motherhood' program so low? And what has she focused on instead?
Sharrows, bike racks, bike lanes, and of course the weather are covered in this wide ranging discussion of bike safety in Boston.
Podcast: Play in new window | Download | Embed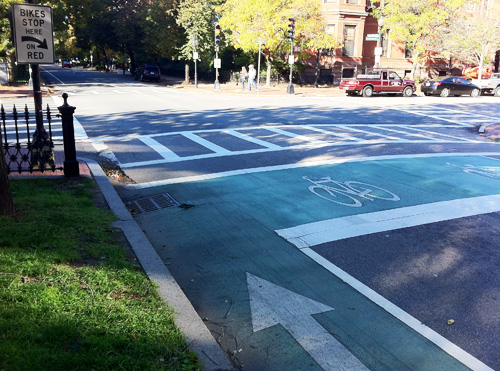 Comments
comments