Podcast: Play in new window | Download | Embed
Great name, isn't it?
At first hearing I thought it must be a national chain, the name is that good. It brings to mind the transcendence of cycling, the delusion of never ending downhills, heavenly gear and the cult of spandex.
I'm scheduled to meet John at his shop on campus at UC Irvine; I arrive before he does and observe the steady stream of students and their bikes needing repair. The two mechanics must feel like they're working in the bicycle equivalent of a fast-food restaurant — the bikes just keep on coming. Many are repaired in just a few minutes and more than a couple are waved off when asked, "how much?" It's a long way to the next closest bike repair shop and these students need to get to class.
Finally, John arrives. I feel like I have a good idea as to what's going on, so I can concentrate on the man. He had a paper route as a kid, the beginning of his riding career. Today he leads a lot of local rides with serious road bike riders. And he's well connected in the community — he served on the 2009-10 Newport Beach Bike Safety Task Force; that's where we first met. Today he's sponsoring the OC Gran Fondo on October 8th. (I'm signed up.)
Of course, there's a lot more to John's story…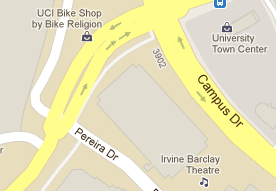 Comments
comments