Commute By Bike: Josh Lipton and Ted Johnson
How do you talk to a Conservative about the benefits of cycling?
Don't start by talking about the end of fossil fuels, climate change and transportation choices. Instead Josh Lipton and Ted Johnson invited a guest columnist to discuss the way to begin this dialog — the rest is history. "How to talk to a conservative about cycling," is a modern classic, you'll find it on Commute by Bike, where Ted Johnson moderates the discussion.
Ted and Josh are eCommerce gurus; they've got several niche websites, like bikeTrailerShop, bikeKidShop and others. They're actively blogging to enhance their brand and drive traffic to their sites.
But it's summer and time for a little time off, so Ted visits Colorado for a little vacation and once again proves there is no vacation for bloggers; he starts observing signs in the different towns, signs that discourage cycling. When he returns home and assembles all the photos into a post, he ends by asking, "How does your town say 'No Bicycles'?" It was a question that resonated with many of his followers. You can blame Ted for the removal of the Fernleaf Ave sign.
So their business is growing and they're capturing lots of mind-share in the blogosphere, but then an accounting error occurs and American Express yanks their line of credit on short notice. One strike and you're out! They're in a cash crunch.
Here's a growing small business with great prospects for the future in a community that supports them, but they are strung out over cash flow.
It's an all too common problem for young entrepreneurs.
How will they pay off their line of credit while they desperately seek another source?
Podcast: Play in new window | Download | Embed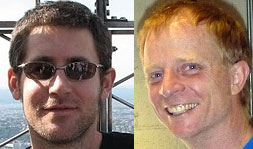 Comments
comments