Building Bridges: Mark Bixby
One of the things we tout about Long Beach is:
We're big enough to make a difference, yet small enough to make rapid changeMark Bixby
Build a new $1 Billion bridge and leave out bicycle and pedestrian access? That didn't make sense.
Yes, there are a lot of trucks on the Desmond Bridge in Long Beach, but that didn't scare cycling advocates Mark Bixby and Allan Crawford; they went after Caltrans to press their point.
The pressure was on today, too. I knew I only had 30 minutes before Mark and Allan would would end the interview and take a scheduled call. But it was time I was willing to squeeze into, because the call involved top people at the Port of Long Beach and Caltrans. The subject: a reconstruction of the Gerald Desmond Bridge will be put out to bid in May/June, but would pedestrian and bicycle access be part of the plan? And not just any part, like the part that gets dropped when all the other components can't be built under budget.
It was going to be an important call, but first, a little background on Mark and Allan and the context of bicycle improvements in Long Beach.
Show #14.
Podcast: Play in new window | Download | Embed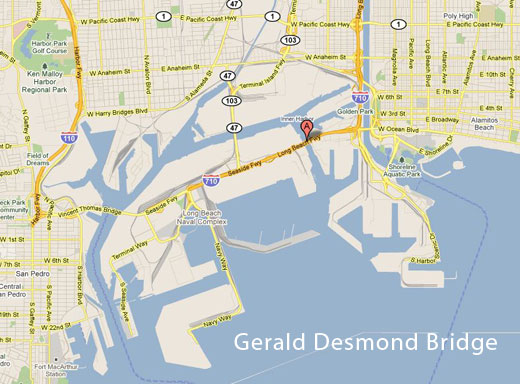 Comments
comments