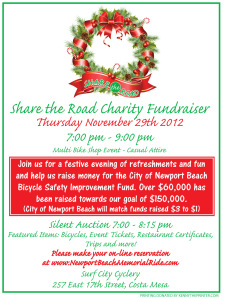 Thursday night: party and fundraiser!
It's time for the Share the Road Charity Fundraiser and we're out to raise money for bike safety improvements in Newport Beach.
It's a true win-win because all monies raised are matched 3:1 by the City. We're out to raise a total of $600K and we're well within reach, if you'll come out for this event.
Barbara counted 16 bikes that'll be up for auction, maybe 17. All types of bikes, too, so if you've got someone on your naughty or nice gift list then Thursday night's the night for you.
At Surf City Cyclery, 257 E. 17th Street, Costa Mesa, CA
7-9pm Thursday November 29th
Register and bring your checkbook.
Comments
comments