"Are you a school teacher?"
The question stumped me; where was the ticket agent coming from? Is this a new security question?
"You've got nice penmanship," she said with a friendly smile as she tagged my bag.
"No," I mumbled, enjoying her praise nonetheless. I do have good penmanship, but the glow of her compliment fades as I walk away from the counter. How did she see my handwriting? Must've been the name tag.
Checking in at the new John Wayne Terminal C feels different; I'm on my way to Halifax for a week of meetings and bike riding. Next stop: security.
I've never seen such a friendly TSA greeting, "Where's the bike?"
"It's at home; I'm renting a bike."
Others overhear this exchange and want to chat, too. All because of the clues — my yellow pannier and my riding glasses with the attached rear-view mirror.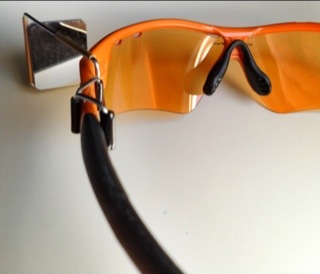 "Nova Scotia," has become my terse reply to these inquiries. It's causing some jealousy, I'm sure, as others head off to business meetings.
"Doing a tour?"
"Going solo," I'm still getting used to the idea.
Once on board, as I'm slowly making my way down the aisle, there's a flight attendant standing in my row. She wants to know about the glasses perched on top of my head.
"I'm paranoid!"
"You like to see who's behind you?"
"Well, it's for my bike," and as she slides past she gets the last word, "I liked 'Paranoid' better."
Everyone seems animated to me; is it post-Mothers Day goodwill? As I checked the pannier with the pocket knife and multi-tool the baggage handler makes light of how light the pannier is. I've packed like an obsessed ultra-light backpacker. Ridiculously light, but with all the essentials, especially rain gear. I'm ill prepared psychologically, but not gear-wise. It seldom rains in California — I don't ride in the rain much anyway — but on these multi-day rides I'll feel compelled to get moving no matter the weather.
One luxury, I have 2 rain hats packed — the tried and true one and a new, bright yellow one that looks like it might keep my glasses dry. Because the problem with riding in the rain isn't getting wet, good gear handles that, it's visibility. It's hard to see through rain covered glasses.
The weather is looking better every time I check — 70 degrees for the weekend coming up.
I couldn't seem to find it yesterday, but today it seemed obvious — I will remove one long sleeve shirt from the pannier and thereby fulfill my packing ritual: always yank something at the last minute. The Kindle and the shirt won't be missed.
For reading I'll use the Kindle app on the iPhone; got a few short videos loaded up, too. But if this trip is like last fall's Erie Canal tour, I'll be drifting off to dreamland early each night.
Comments
comments