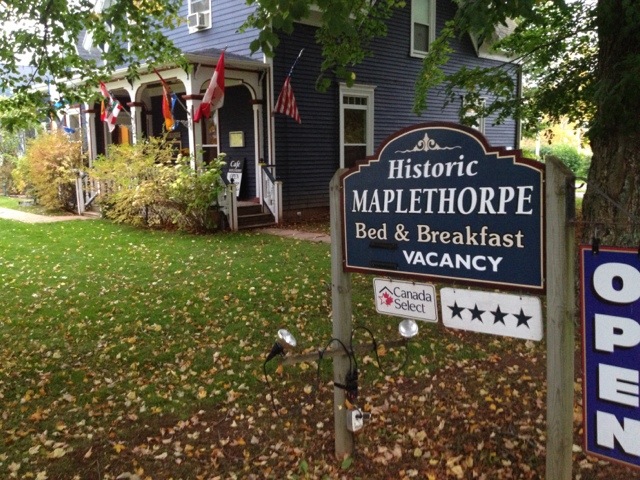 While I'm cleaning up after my 40 mile ride, I hear laughter filtering up from the kitchen — that's a good sign.
It's Friday night in Bedeque, PEI and the Historic Maplethorpe is a B&B, but more — there's a crowd gathering for a homemade super.
When I called to make the reservation, Diana was quick to say, "One for dinner? We'll find a way to squeeze you in."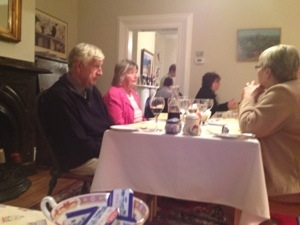 Last night's dinner was well attended.
This would be my first night's destination, because of the dinner option. There are darned few places to eat once you leave Charlottetown. That's one of the reasons Diana and Jim added the restaurant — scarcity of fine food. My next destination was also targeted at a hotel with a restaurant, but as soon as I made the reservation I was told the restaurant was closed for the season. Pack a sandwich, I guess. It sounds so unbelievable, I think more than a few friends doubted my claim.
Dinner is delicious and the fatigue from the ride helps me to sleep like a baby. I've learned there is no jet lag when you get right on the bike the first day.
In the morning it's cool and breezy; the roads are wet and the forecast is calling for 2 days of rain.
But breakfast comes next.
I have a window seat again, but in the other dining room right off the kitchen. The little Village Store sits on the nearby corner; I can see the early morning patrons and they're all dressed much warmer than I am. There's a kid on a bike, maybe 6 years old, and dog walkers. I'm well off the beaten path here in Bedeque.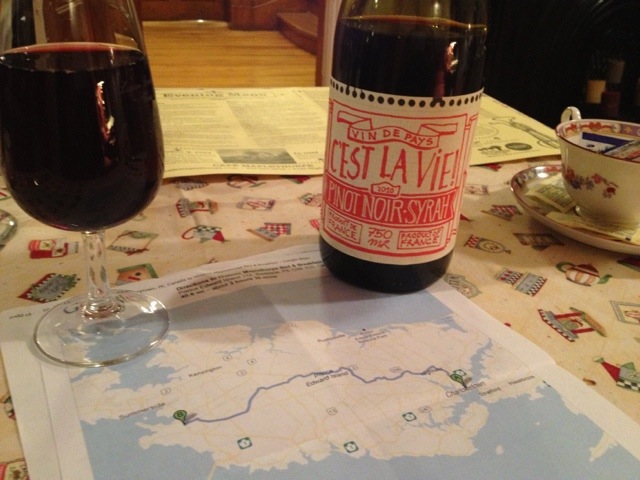 I attempt to spill a little wine on my route map.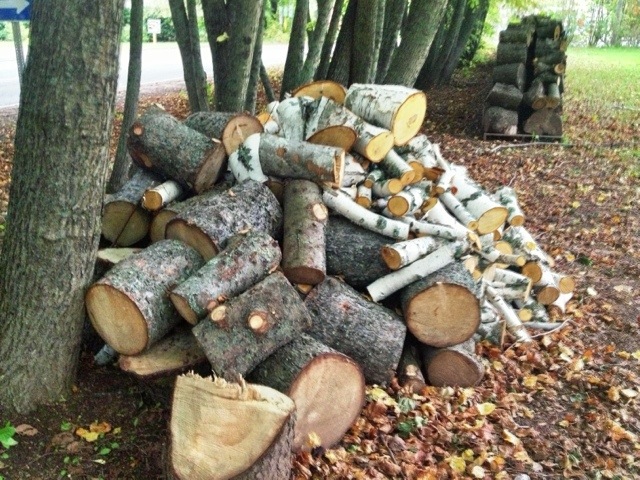 In the past year I've learned a lot about the health effects of wood smoke. I wouldn't want to live across the street from this neighbor.
Comments
comments