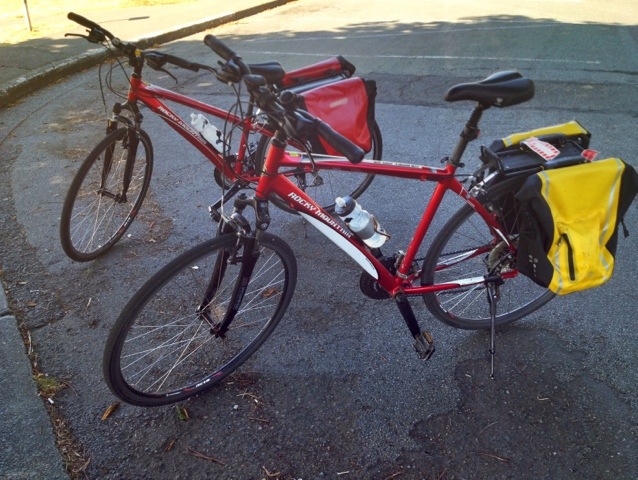 It was Victoria's hottest day of the year, but nothing to slow us down — temperatures hit the low 80s.
We picked up the bikes in the late morning. Ben at CycleTreks was very helpful. He fitted each of us to the right size rental bike and assisted with the panniers. One of my panniers is missing a rubber-type shim where it clamps to the rack; my idea was to take a piece of old tubing and stuff it into place. Ben had a better idea and brought out a damaged tire which he deftly cut to size — it fits perfectly and he cut me a spare in case this too drops out along the trail.
I had the route map from Bike Victoria to launch a ride around the city. First stop: a children's playground and a sculpture-to-play-on, Glass Half Full.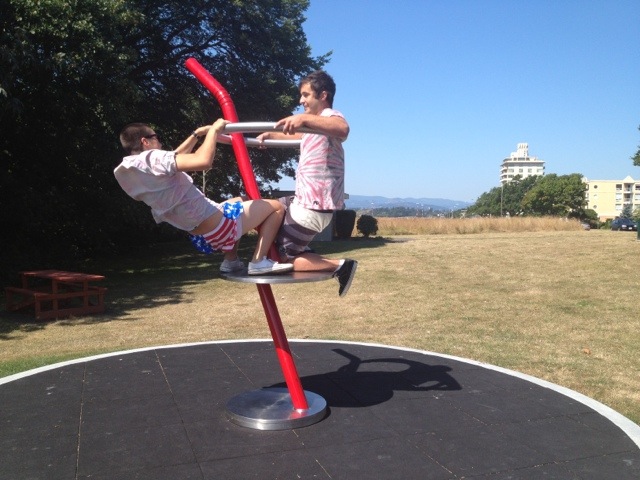 This playground sculpture brought out the kid in these two
Next we were ready for lunch and found ourselves on Cook Street where I knew of Pizza Prima Strada. This joint gets highly rated and we soon discovered, deservedly so; we talked about those pizzas all day long.
There were two gypsy-style street musicians on the sitting on the corner, fiddling wicked tunes.


We idled away the rest of the day, the heat keeping us to the shady side of the street.
Comments
comments