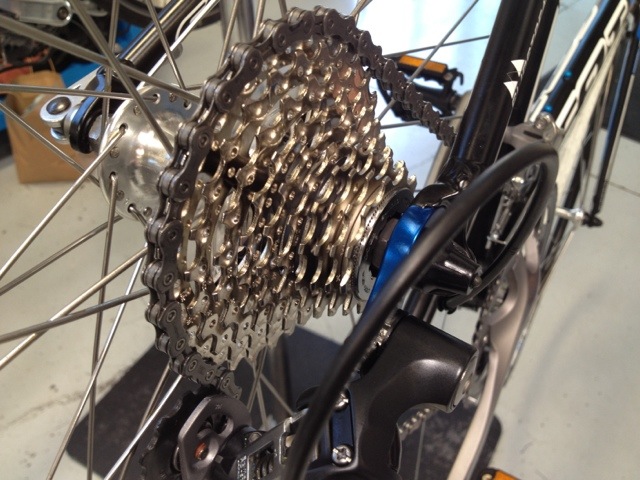 My whirlwind visit to Portland is over; it's recovery time now.
I was burning the candle at both ends this week; the class was intense and ran all day — evenings were filled with friends and family. The days run long this far north and it's hard to sleep when it feels so early. I'm not complaining — it was a fabulous week, exhilarating and refreshing, like a vacation should be, only this week was dedicated to bike maintenance skill building. And time with my son.
On the eve of our departure I told my wife that the week had gone better than I'd imagined it might.
Can you picture a 16 year-old spending all that time with a parent? It was close quarters, even though we shared a 2-bedroom; we sat next to each other in class then worked side-by-side on the bench. We'd often pass each other a tool or part. Every breakfast and lunch, plus the hourly breaks, too, we spent together wandering the streets of this up and coming neighborhood on the NE side of Portland. We had time to talk, and me to listen.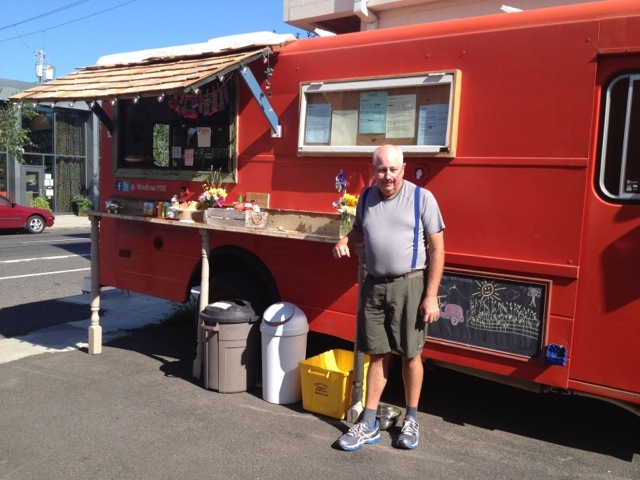 We ate several times at Woodrow's truck, directly across the street from UBI. After the first order, each time thereafter I was greeted by name, a charming personal touch.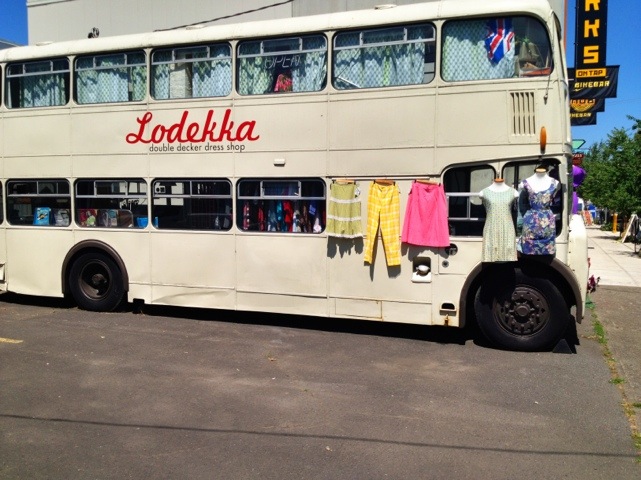 This funky double decker bus was filled with cool retro threads.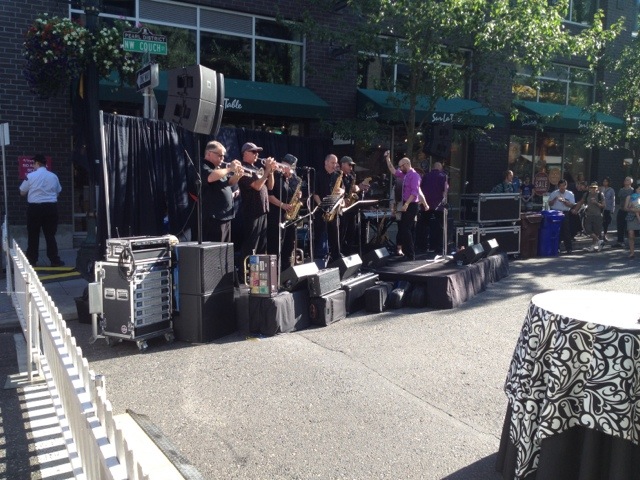 My last night in Portland and this street is blocked for the first of a weekend's worth of music.
I've already ordered a few new tools so I can maintain my fleet. I have my certificate and now I know what I've been doing wrong.
One of the simplest things: I learned I was making things worse when cleaning my bikes — I was using a citrus lubricant, but all week in class we used isopropyl alcohol instead. The lube would attract dirt and gunk everything up, including me, but the alcohol keeps everything clean and only the chain links get a drop of oil. The components will last longer, just by keeping them clean.
Tomorrow I'm going back down to the garage to re-install those new brake pads — the old ones squeaked constantly and I now know how to install the new ones properly. I see a derailleur cable that needs replacing, too. These little tweaks will be fun.
It's easy for me to get wrapped up in the mechanics, but back to my son. We had quite the time of it as we departed town. At the final lunch break we said our goodbyes and pedaled one last time across the Broadway Bridge; we were headed to my brother-in-law's store where we'd pack up my son's bike and ready it for shipping. This time there was no bickering; the bike practically jumped into the box. A check of the time made me realize I had budgeted a little too much for these simple steps — we had 6 hours to kill. Lunch would help; David orders mac & cheese off the menu and I know he's thinking of heading home. While we wait he's Yelping 'tattoo shops' in a final attempt to talk me into giving permission. One's just a block away or so he thinks; I know he's pulling my leg, but it's been a constant topic over the past few days. Everyone in Portland is showing off their skin art, or maybe it's just the warm weather that makes it so visible. He wants to join the party.
It's only a block to the free trolley. We're traveling heavy, pulling the Brompton and our bags, so I'm glad it's not far. In a few stops we transfer to the TriMet light rail — and drag the bike a few blocks, uphill this time. We're both feeling weary, but soon we're holding our tickets, another $3.50 for 2 to the airport. Once again I explain that we're saving at least $50 versus a taxi. He enjoys the ride; it's a novelty for a boy from Orange County.
On the flight home he wants my phone to play games and soon he's got me playing Mancala with him. He knows how to play and I don't; he enjoys the slaughter. Next it's Sudoku where I can hold my own. It's a fun time, but doesn't last long. "I want black screens," says the flight attendant — we've lost sense of time; our trip is about to end.
As we walk out of baggage claim I tell him, "We'll never forget this time together." And I hope we don't.
Comments
comments