The trail surface is the best I've ever ridden on — hours go by before I notice that I haven't been watching the trail. Most trails require constant vigilance, but here there's not a single hazard.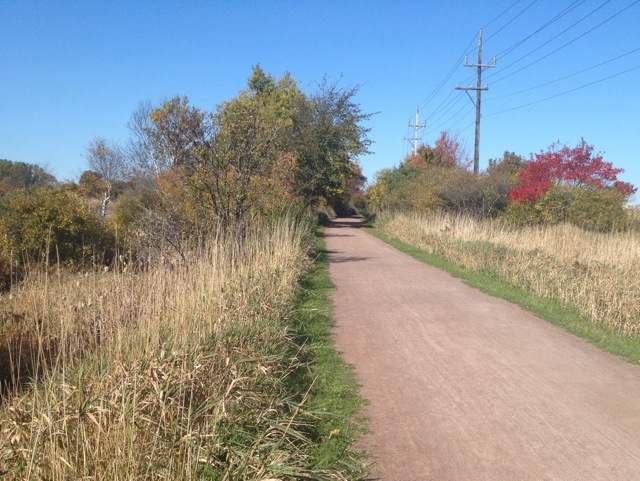 I did almost ride off the trail at one point — an eagle and a raven were arguing right overhead and I thought I'd watch it unfold. As I made the quick corrective move to stay upright, my eyes drifted down the steep bank — a reminder of the railroad track it originally was — and a flash of "the worst that could happen" went through my mind.
As long as I stay on the trail, riding solo is fine, if a bit lonely. It's quiet out here. There were only a dozen people out on this trail, most were walking their dogs.
PEI's Confederation Trail doesn't appear to be a super highway for bike commuters. Too bad because it should be. I've seen Toyota, Kia and Mazda dealerships as I left the outskirts of Charlottetown, so the automobile culture is entrenched here, like everywhere else.
PEI has a great pitch to cyclists – and it delivers, so why didn't I see more folks on the trail?
I would later learn that driving's too easy here on the island, so why not drive?
Diana, the proprietor of the Historic Maplethorpe B&B in Bedeque, makes a weekly run into Charlottetown for the Farmers Market. "That's a good distance to go to market," I offered. "It only take 45 minutes," she shot right back.
You can do the math quickly, too. I can't go 40 miles anywhere in Southern California in that little time.
Comments
comments