A Walkability Audit with Dan Burden
Ever been on a Walkability Audit?
Neither had I, but when it was suggested that would be a good time to meet Dan Burden, I couldn't resist. And San Diego is a lot closer than Port Townsend, WA — his home base.
You may recognize Dan from his prominent role in Road Diet, the Streetfilms short. "A road diet is anytime you take any lane out of a road," Dan explains. This clip was featured at last month's Bike Safety Committee meeting; it was a big hit. That's when I knew I had to track Dan down for an interview.
He shares credit for inventing the term 'road diet' with Peter Lagerwey (Listen to Peter's interview) in Seattle, so that's how I reached out to Dan — through Peter.
So back to the Walkability Audit… I was surprised that it started with an hour in a classroom. Dan covers a lot of the concepts before we even get on the bus to visit San Diego's Little Italy neighborhood. He's done over 4,000 of these walking audits of pedestrian and parking facilities — as you can imagine, he's quite good at it.
He's enjoying an enthusiastic audience this morning. There are 32 attendees wrapping up a multi-day conference; they come from Hawaii, New Jersey, Oklahoma, Maryland, Oregon, Pennsylvania, and Alberta. Some attended his walk through La Jolla's Bird Rock just a few days prior. There's a buzz in the room from the word go — everyone's excited to experience the walk through Little Italy.
So what exactly is the walkability audit? Dan tells how it started when he worked at National Geographic, "Where I learned to see." Then as his transportation career began, he observed, "We stopped designing communities for people, but that's starting to change." One story goes back to a time at the Florida Department of Transportation,
I noticed the engineers weren't walking their intersection designs.Dan Burden
His Walkability Audits teach the participants how to see the opportunities for improving pedestrian comfort — that being one of the 5 keys to designing a walkable community: Security, Convenience, Efficiency, Comfort, and Welcome.
I enjoyed this new experience, of walking through a neighborhood with a new set of eyes, so much — I kept wanting to call my wife to say "We've got to come and visit, spend a weekend," and that's the whole point. Dan's Walkability Audit was a great teaching tool on how to redesign neighborhoods that put people first.
Show #33 Listen to Dan.

Podcast: Play in new window | Download | Embed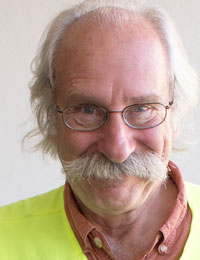 Comments
comments