Bob Mionske, When Collisions Occur
No one likes to imagine they'll be in a collision, but a little pre-planning could go a long way to repairing whatever damages you might suffer. That's what Bob and I discuss on today's show.
On vacation in Portland at the end of August, I wasn't in town 2 hours when we're off to dinner. Who walks in and sits next to us? Bob Mionske.
Although we've only met in person once or twice, we recognized each other right away. He's appeared on the show here a few times — we both got a kick out of the realtime connection and pledged to get together online here.
The legal aspects of a couple of local minor collisions prompted me to ring Bob up. Today we'll review what happens when a cyclist is involved in a collision with a motor vehicle and how you've got to keep your wits about you to be sure any medical or mechanical expenses are covered.
Long term listeners know, Bob's the original, the 1st bicycle attorney to hang a shingle as such. Today he writes a monthly column for Bicycling magazine.
Check out his book, Bicycling and the Law: Your Rights As A Cyclist.
Show #57 Listen.
Podcast: Play in new window | Download | Embed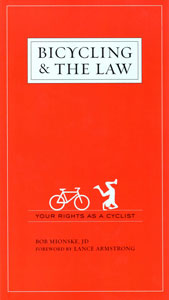 Comments
comments