Everyone agreed on one thing – the focus of the new Parking Plan for Corona del Mar is economic development.
Yesterday was the kick-off day for the plan process with Brenda Wisneski and Fern Nueno from the City joining several members from the CdM BID. Nelson Nygaard's Brian Canepa did most of the talking; his first question:
What did everyone want?
Put many different ways perhaps, BID President Bernie Svalstad summed it up, "A plan for the future."
How would bike parking fit in?
I thought I'd be the one to champion that idea, but even before the meeting started the pre-meeting chit-chat focused on bike racks. One BID member wanted to point out to me that his daughter discovered there are no bike racks at Big Corona beach. "I know," was about all I could offer, "I hope to change that with the Bicycle Master Plan Oversight Committee."
Everyone is also quite aware of the pedestrian traffic in CdM. A study of Rose's Donuts found that 48% of their traffic either walked or biked. Could this become a rule-of-thumb for other merchants? Planning Commission codes should be modified to better accommodate the nature of traffic in CdM many felt.
I came away with an assignment – I'll be meeting with Ron Yeo to discuss bike rack options. Ron already has a favorite design – he showed me a photo of a ring rack he admires – it likely would be well suited for installation along Coast Hwy.
As I headed back to the parking lot to hop on the Pedego it dawned on me – there's a very positive attitude towards bike parking. As we've all heard about the economic impact bikes have had in other locales – Belmont Shore in Long Beach was cited – I'm optimistic that this Parking Plan for CdM will have a big component of bike parking in it, too.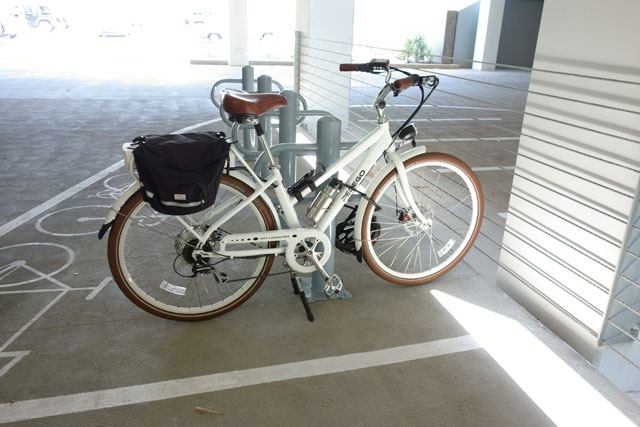 Comments
comments