Learning Bikeshare one-way at a time
Google Maps showed it was only 3.9 miles away – not far for a bike ride to coffee in Hollywood.
The route, the blue line, appears so effortlessly, but I had qualms – there are busy roads along the appointed way. I decided to take the MAX and I was glad I did – at 7:30am I was opting for the easy way to get there.
Next time I'll budget a few more minutes – I got there right on time.
When the meeting was over I assumed I could hop on a Bikeshare and pedal myself home.
It's always easier using the Biketown bikeshare for the second half of the trip I'm finding, because I know how to get home from wherever I might be, plus there are 2 prominent stations right next to my apartment building, so drop-off is a breeze. My built in, brain-based, geo computer figures this return trip part easily.
Meanwhile back in Hollywood, the Biketown app is telling me I won't be riding home because the system doesn't extend that far out – too bad!
Plan B is to jump back on the MAX – but before I buy a ticket I check my earlier pass – it's still valid, I've got time to get home, but just barely. But I've been too optimistic, when the train arrives I've only got 9 minutes left on the pass, but then I realize – that will get me back to Moda Center and the Bikeshare. I'm so excited at the prospects of this multi-modal travel that I hop out early at the Convention Center stop – the orange bikes are just across the tracks – I choose the black, Nike Air Safari model. I'm on my way.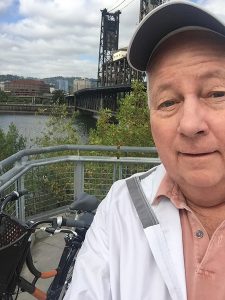 By this time the morning has warmed up and I'm delighted to discover that the ride is all downhill. I stop for a selfie above the Steel Bridge – it's a gorgeous morning for a bike ride.
Website chores await as I arrive home. Lunch will be later as I plod through a bug. It takes two tries, then a third and a fourth before I find the problem and everything's smooth sailing again, but all this time at the computer has killed the earlier bike ride buzz. I'll head over to Director Park, my new favorite place to loiter. I'll have lunch and sit myself in the shade, over by where the solo violinist serenades. Sublime.
As I get up to head home Moms and their small children block the exit I'd usually take, so I walk the long way around. As I do I see people showing off the Bikeshare, answering questions, encouraging new riders. I approach, introducing myself as a founding member. "Yeah, rode it just a few hours ago – finding it easier to figure on the return trip," I tell them. They tell me of Google Maps with its bike route mode. They know what they're talking about and it's fun to see their enthusiasm and knowledge. It feels like I've closed a loop. I've got my earlier Bikeshare buzz back.
Can't wait to hop on the Bikeshare for my next ride home.
Comments
comments