One Year In Santa Barbara
It's been a little over a year since I moved to Santa Barbara. Because I only lasted 18 months in Portland, friends want to know – How's it going?
Let's compare Santa Barbara to Portland
Those NW pals would want to hear about the weather – if I were to say that the endless progression of clear, warm, sunny days gets a bit boring – they'd think I was rubbing it in, but it does.
One of the reasons I moved here was air quality – even though there's little difference in the two cities' consumption of fossil fuels, Santa Barbara's prevailing winds blow the skies clear.
Homelessness in Portland hit me like a slap in the face, but on a per capita basis Santa Barbara has just as much. Some might argue, but it seems like Portland is doing more about the homeless.
The big surprise
The big surprise is bicycling – I'm walking more and biking less in Santa Barbara. Come Sundays my wife will be asking to go for a ride, that's a role-reversal from years past – these days I'm seldom looking for a reason to ride.
Maybe it began over the summer months, that's how I started rationalizing my rising riding reluctance – with more Los Angeles tourists the streets were noticeably less friendly for those of us on bikes. But when I'd share this perspective with my new friends here they'd object and point out that Santa Barbarans themselves could be quite impatient when behind the wheel.
There are fewer places to ride. The Obern Trail is marvelous, but how many times can you visit Goleta Beach? Heading south has been off the table due to the Thomas Fire then the mudslides, but I'd already given up on the 10-mile ride to Carpinteria – the route is so close to the 101 Fwy, with all its noise and pollution, that it takes the fun out of what would be a lovely destination. So I'm constrained in my bike routes, something I never anticipated.
Urban riding
I've become a utility cyclist exclusively. I ride to coffee with colleagues, to meetings at the Bicycle Coalition, up the Mesa for groceries – a nice, no-car lifestyle.
But riding across town to the Bike Coalition, I've changed my route. My commute to a 9am Tuesday meeting had too many cars speeding past me – more than inconsiderate, these harried motorists had no concept of the potential for injury. Today my route follows the State Street and Haley bike lanes; I have fewer stressful encounters as a result.
Reason for optimism
My route across town is about to change again, as soon as this week when the new Cota Street protected bike lane is installed.
Here's hoping it will be the first of many more.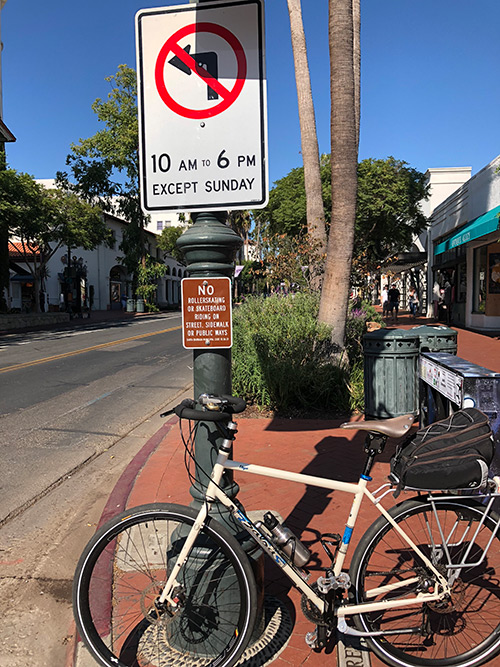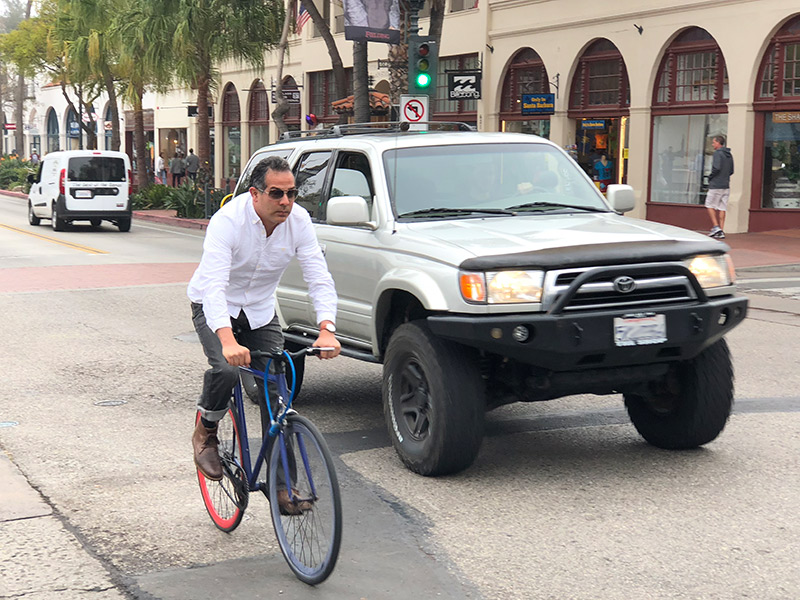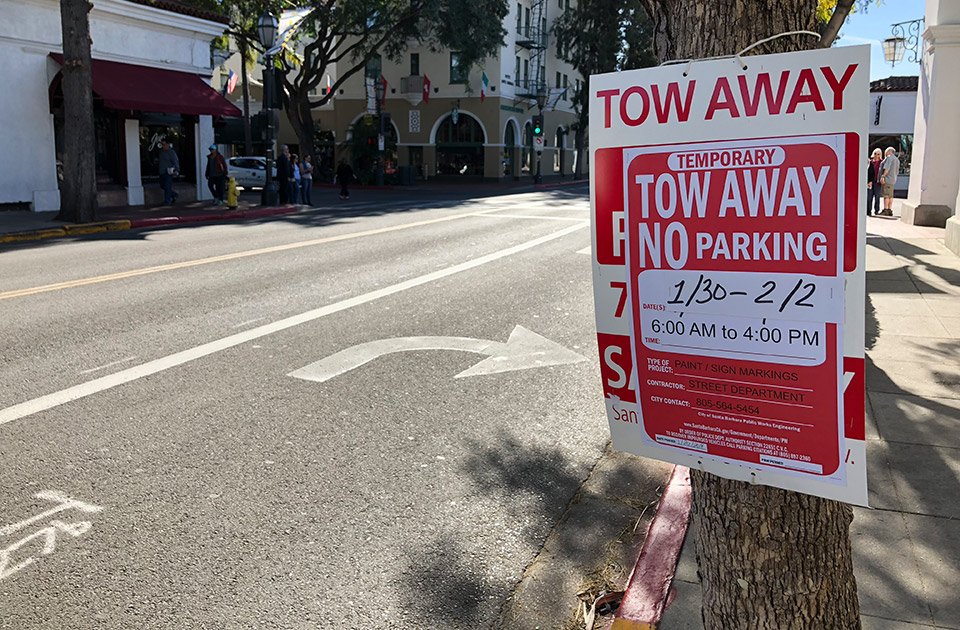 Comments
comments