It's our last morning; we will depart Santa Barbara at 2pm as we head for home.
We've got time for a ride south along the coast; breakfast is our objective.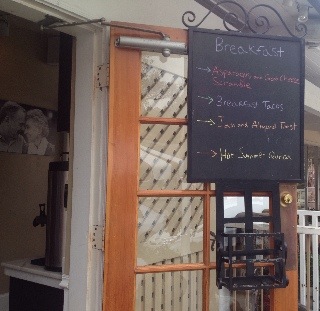 Yeah, it's a beautiful off-road bike path, this Coast Route path, but I can't help feeling it doesn't match up on the equity side. Equity, the next of the E's coming for Bicycle Friendly Community, asks rating advocates to consider if poorer parts of a city are as well served as the wealthy. Good question, eh?
Montecito has to be one of the wealthiest communities in all of California and it's obvious, they have it better than everyone else when it comes to bike paths, too.
We haven't eaten a bite yet, so we pedal on into lower Montecito where there are several cafes with outdoor seating. We recognize one from past visits and pedal on over.
In my youth this posh neighborhood held great sway, but today I'm not so smitten. The nearby homes are some of the priciest anywhere; the cars parked in the lot confirm it, too, You're not in Kansas anymore — even Corona del Mar pales in comparison. This impression I'm getting is creeping me out a little — this is ground zero for economic inequality — it's time to ride back to Santa Barbara.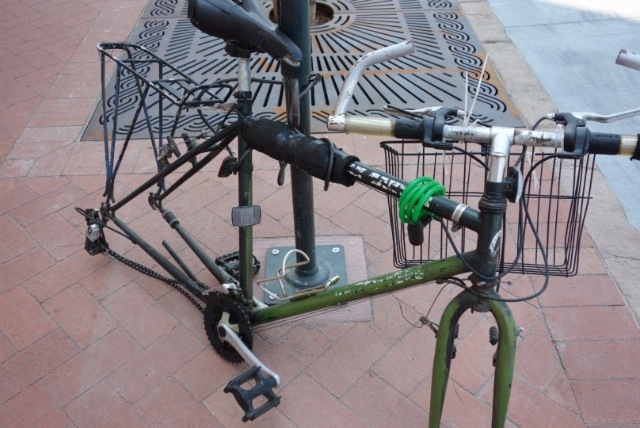 You're not in Montecito any more!
Back in Santa Barbara I realize I haven't been taking photos of the bike racks. There are 2 kinds, adequate, but not great and terrible. The most common bike rack in town, the Philadelphia bike rack, is great when empty as pedestrians can enter from street parking easily, but in a lot of cases these racks aren't located next to street parking. A few inverted U racks would be well received; they support the bike better — in 2 places — and there are a lot of bikes carrying a full load.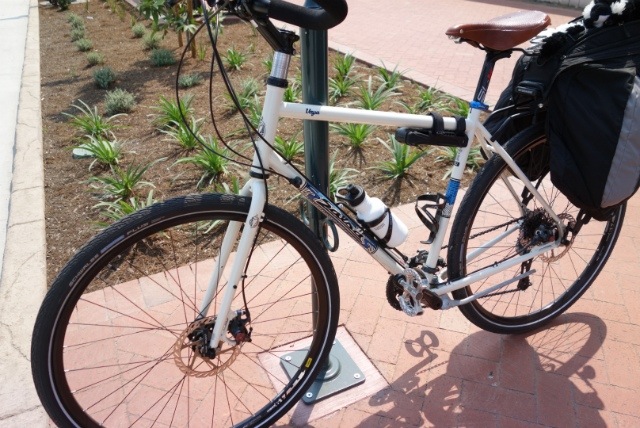 Santa Barbara's bike rack, like I've seen in Philadelphia, does a poor job of supporting the bike.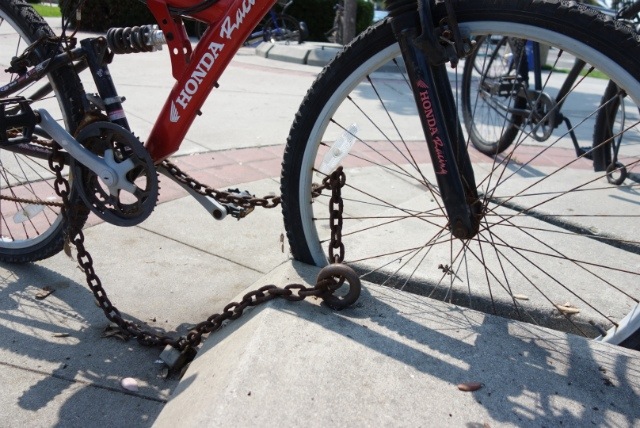 Here in the harbor we find these concrete bike racks. Bikes can easily be damaged in these racks. This worst-of-all bike rack is complemented by the world's worst bike chain, too.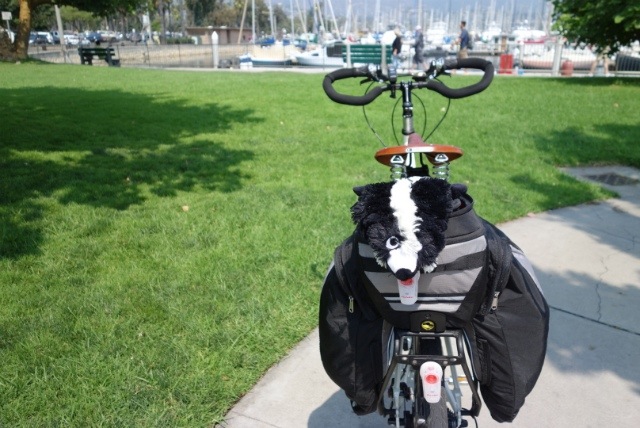 My mascot, Skunky, logs another bike tour.
Comments
comments