Carolyn Szczepanski, Women on Bikes
She's the Communications Director for the League of American Bicyclists, so you can imagine, she's on message.
Carolyn shares the emphasis the League is placing on getting more women on bikes.
Why the special emphasis?
Can't women handle this on their own?
Yes, but the percentage of women on bikes isn't keeping up with men. There's more of them, but in relation to men, their numbers have been dropping. In part that's why she helped to host the National Womens Bicycle Summit in Long Beach in September.
When she's not messaging for the League, she's writing for Momentum magazine and Bicycle Times; two of my favorites.
We discuss so many issues, like high school in Houston, her home town today in Washington, D.C., and how much progress there's been in building bicycle-friendly infrastructure. Of course, there's Capital BikeShare operating in DC. She shares how that's made a difference.
We cover so many topics, it takes me a moment to realize what many of you who already know her know: she's fun to talk to, and she knows all about bike advocacy issues.
Show #43 Listen to Carolyn.

Podcast: Play in new window | Download | Embed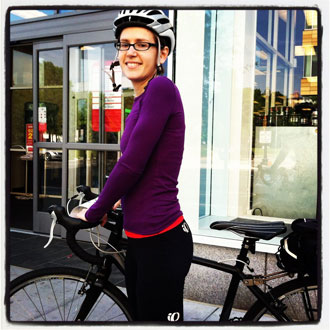 Comments
comments