We met on the Queen Mary during the Alliance for Biking and Walking's Leadership Retreat last month. ABW President Jeff Miller had us both teed up for a breakout session. Stephanie's stories were better than mine; that's when I knew I had to get her on the Show.
She's the Programs Director for the BTA, Portland Oregon's Bicycle Transportation Alliance.
It's nice to have an out of towner around, so I ask her opinion about the things she saw in Long Beach. She shares some interesting perspectives.
We talk about Portland's long term plans as detailed in the Bicycle Plan for 2030. It calls for separated bike paths and neighborhood greenways, to keep the more nervous riders away from traffic. She shares Portland's plans to implement these inexpensive-to-build safety features.
Lastly, Stephanie's in the software business. The BTA, over many years, has built commuter tracking programs and other bike coalitions have licensed the platform. See her bikeCommuteChallenge.com. This business model is quite different from BTA's mission statement, so where do they go with this? Could it be a new revenue source? How will she balance her everyday requirements of the BTA with servicing the coalitions using the software? It's an interesting challenge.
Show #41 Listen to Stephanie.

Podcast: Play in new window | Download | Embed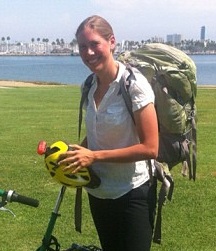 Comments
comments