Riding the Wiggle with John Ciccarelli
Yes, John would meet me for an interview. After all, I was referred by a trusted source, Boston Bikes' Nicole Freedman, his former intern when he was Stanford's Bike Program Manager in the '90's.
This would be no ordinary sit-down interview. I noticed on his website that he offers ride-along-coaching in San Francisco, like a private lesson, then he critiques your riding style, "expert help on where to ride in the street and how to negotiate intersections confidently"; this could be handy in busy San Francisco. I found this idea irresistible; my riding would give him something to mention during the interview, at the same time I'd learn my way around the city.
John offers to meet me at the Glen Park BART station and I love that idea, too; I'll do another multi-modal bike/train trip and avoid parking a car in downtown San Francisco which I know from past experience is pricey. "I'll bring my Brompton on the train," I suggest as a way he can recognize me. "I'll meet you with my Brompton." I'm gonna get along with John; I can tell.
I costs me $2 to park at the Millbrae BART Station; that's a bargain. I take the bike from the trunk, unfold it and ride across the parking lot right up to the terminal, easy. Up one elevator and down another and the train is waiting for me; I just roll in and grab a seat with the bike at my side.
I arrive in Glen Park a few minutes ahead of schedule; time enough to look around — at the hills! Whatever direction I turn it's either up or down, oh boy. To distract myself I shoot a few station photos.
Then John arrives on his 13-year old Brompton — a classic.
The interview starts right away, I'm just not recording it, "You're wearing the mirror on your helmet." It's on his glasses, not his helmet, and as I'm admiring it he has me take off my glasses so he can show me just how convenient it is. I'd tried this mirror arrangement before, but didn't give it a chance; he encourages me to try it again and I will. I've got mirrors on all my bikes, but not the Brompton — where would I put it? Mirrors are a great safety feature, "I like them on my glasses so I don't take my eyes off the road." This sounds like good advice in the city.
After a few more pleasantries, we're off. He has an errand downtown he tells me which sounds like a ruse to get me to follow him along some very busy streets into the heart of downtown. I'm up for it though; when I visit other cities I always prefer to ride in traffic — I want to see how motorists treat cyclists and observe the infrastructure. This would be my lucky day.
There are potholes to watch out for and the wind has picked up; it's blowing pretty good and all I can think about is this same wind at my back on the return. It's warm, about 70 degrees, and with the wind and the vigorous pace John's setting I'm getting thirsty.
He's pointing out infrastructure along our route. San Francisco was the pioneer in using Sharrows — I see them everywhere and traffic is quite considerate of cyclists. There's no horn-blowing as we zig and zag our way through busy intersections. I mention my post about the Box and John picks up on it right away; he's altering our route to take me to see a favorite bike box.
We stop to admire some of the Public Parklets. It's where the city has converted a parking space to something slightly unconventional. I wonder what Frederick Law Olmsted would make of this?
Here a Parklet doubles as a do-it-yourself bike repair station outside Freewheel Bike Shop on Valencia Street. I wonder where the putting green Parklet is? Horse shoes?
You've felt it too, a trip to San Francisco, the culture feels a little foreign: the respect for cyclists, their sheer numbers, oh, and the art, too.
Our time is flying by, so we push on to the Wiggle. All along this route I could see a steep incline off to our left, up to the Haight. The Wiggle minimizes the uphill effort; it's a well-marked and well-used route for cyclists. At this point I realized I was visiting an advanced bicycle culture.
For the two of us, it's all downhill now. John suggests we do the interview at City Hall and as we approach I recognize the route. We have to cross several traffic lanes to turn left onto the plaza; I've done this before and found it quite thrilling — I pull out in front and make my move, the San Francisco motorists have no issue with me signalling and moving into their lane — it's a piece of cake for anyone who loves city riding!
We've got several shared experiences to talk about as I unpack the microphone. How did he rate my city riding skills? And how can we possibly squeeze in all this man's safe cycling knowledge into the next 20 minutes? We do our best…
Show #28

Podcast: Play in new window | Download | Embed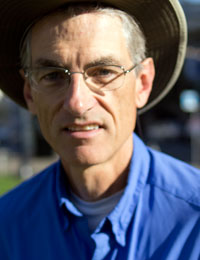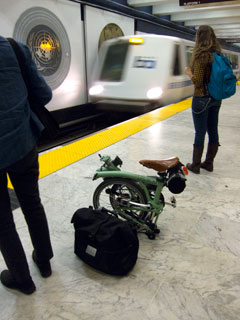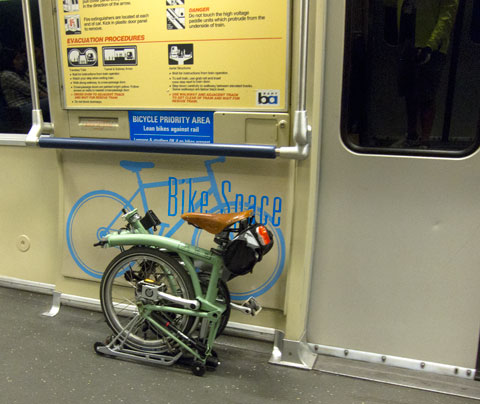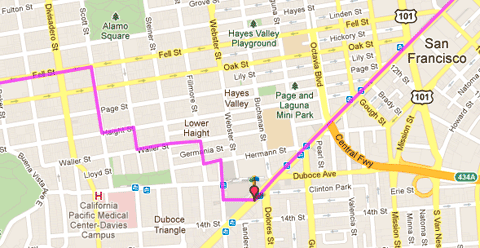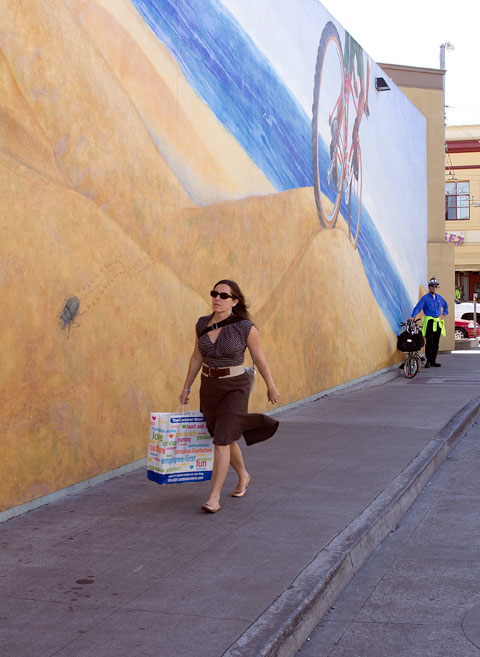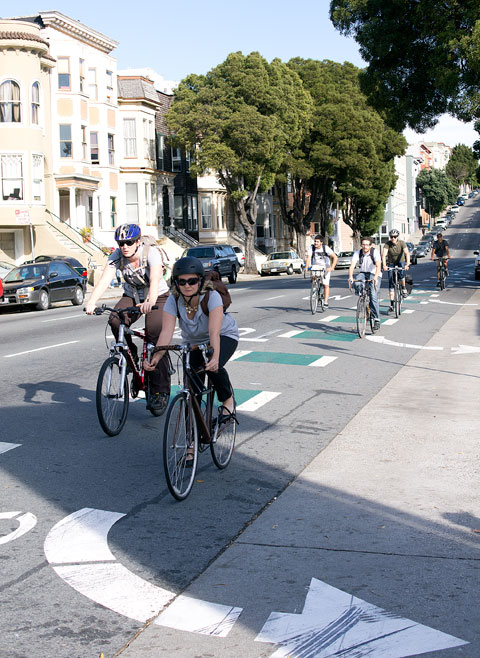 Comments
comments